If you are looking for a streaming device to centralize your media and you are considering the Amazon Fire TV Stick as an option, this page is for you.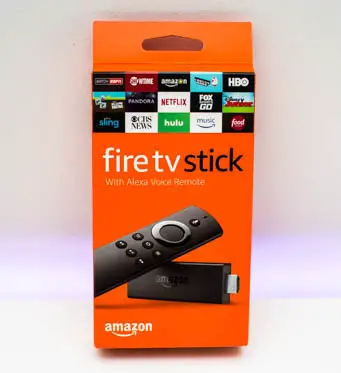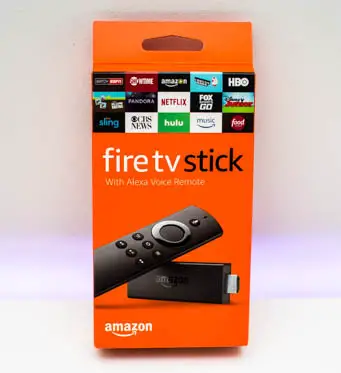 A few days ago, I got myself an Amazon Fire Stick. I am subscribed to several streaming services and I also get content from a Plex server.
The idea was to get something that could make all my content available on my TV through a single UI.
I already own a Google Chromecast but I wanted something that didn't depend on my SmartPhone.
By the way, the Amazon FireStick is a device that centralizes your streaming services (Netflix, Hulu, Amazon Prime, Plex…) and makes them available on your TV through a unified interface.
After using it for a few days, I thought it would be interesting to put my thoughts together and create a Fire TV Stick Review.
Here is what I am planning to cover today:
Unboxing of the Product.
Installation Process
User Interface and Remote
Things that I don't Like
Things That I Like
Should you Buy It?
Before I get into the details, I should tell you that the Amazon Fire TV Stick doesn't stream in 4K, if that is what you are after, you should check the 4K Ultra HD version.
Fire TV Stick Review: Unboxing the Product
As usual, the item came in a box much bigger than required, this is an Amazon thing that I still don't understand.
As soon as the package is delivered to your door, Amazon sends you an email with the first steps to get the Fire TV Stick up and running, I found this neat and creepy at the same time…
The packaging is rather simple, which is expected considering the price point. Once you open the box you will find the following elements:
The Fire TV Stick (obviously)
A Bluetooth Remote.
USB Cable and Adapter.
HDMI Extender.
3A Batteries for the remote.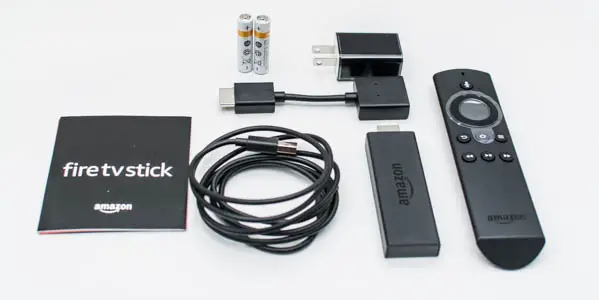 The batteries are a nice touch that allows you to start using your device right away.
I hate getting a new toy at home and having to go get batteries to the store.
All the components are built with very nice quality, especially the remote. Everything seems very robust but only time will tell.
I might add some details in the future if I have new updates on the product.
Fire TV Stick Review: Installation Process
The installation process is so simple that doesn't require explanation but I would like to point out a few interesting things:
The process is very straight-forward, as soon as you turn ON the TV, the UI will walk you through the steps to get everything installed.
It detects all the wifi networks very fast but boy…if you have a very complex wifi password you are going to have a hard time typing everything with the Bluetooth remote.
After enjoying the process of setting the wifi password, the Amazon Fire TV Stick updates itself and lets you chose your Amazon Account.
One thing that is very nice is that the device comes preconfigured with your Amazon Account so the setup is quick and easy.
Once the configuration steps are finished, it will play a video to bring you up to speed on the features of the TV stick. The video is pretty enticing, I have to say.
After you have done all that it is time to start installing apps and getting all your streaming services configured.
Fire TV Stick Review: User Interface and Remote
The remote is very minimalistic, maybe too minimalistic. It has just a few buttons to navigate through the UI. The good thing is that it is extremely simple to use, the downside is that typing to search for content is a bit painful, you will notice this especially if you are used to Chromecast.
The Amazon Fire TV Stick solves the searching issue in a different way. The remote has a mic which turns it into an Alexa Enabled device. You can use your voice to issue a search command or to drive the current playback of your favorite movie. The voice search works fairly well, especially considering my broken English.
The mic is a very interesting feature if you have some level of Home Automation, you will be able to control your lights, AC and things like that from your remote, so you get yourself another Echo device.
This is great becuase you only need to leave the couch in the event of a fire in the building/house (unless you can trigger the sprinklers with the remote as well).
The home screen has too many things in my opinion. By default, it produces an automatic feed with updates from the different streaming services, although it tends to be a bit pushy with Amazon video content.
I think the UI would benefit from a simplification.
Fire TV Stick Review:  Things That I Don't Like
There are a few things that I don't like about the Amazon Fire TV Stick.
The first one is very small but it annoys me…
You can't control the TV volume from your remote!
Roku and Chromecast give you the option to do basic control of your TV from the remote, this is something the Amazon should learn from them.
(There is a Fire TV Stick Remote Addon in case you want to check it out. )
The other thing that is taking some getting used to is the home screen (the UI where you can see the available media). It is getting better as I use the device but I found it confusing at the beginning.
It tends to be too pushy with the Amazon Prime content and even shows you content from services that you don't have. I understand that they need to make a living selling content but I would rather have a cleaner screen.
The last thing has to do with the outstanding fight between Google and Amazon. As you probably know, the companies decided not to support each other products and services.
This means that you need to use Youtube through Firefox, it works fine but it is not ideal.
Fire TV Stick Review: Things that I Like
Let's get to the good stuff 🙂
Here is what I think is remarkable on the Amazon Fire TV Stick.
For me, the biggest advantage is that the Amazon Fire TV Stick runs Android. This means that you can install any Android App that you can get your hands on.
This functionality requires some tinkering to download the apk's directly on the stick.
–  So…All Android Apps will work fine on Fire TV? Absolutely not.
Many apps are built to work on a touchscreen so not everything will do fine on the stick. Having said that, every app that is adapted for Android TV should work fine.
The next thing on my list is that the Fire Stick turns your TV into another Alexa enabled device.
This is a cool feature due to several reasons, the first one is that you can control you Home Automation and use the Alexa skills using your remote.
Up to a certain level (not everything is supported), it adds the echo show capabilities to your TV.
This has proven to be very useful for me. So useful that I carry the remote around the apartment and often don't remember where I left it 🙂 (It has happened more than once)
The hardware on the Fire TV is decent enough to run KODI so if you are looking for a platform to install it, this might be it.
The last remarkable thing is the ability to hook up Bluetooth headphones/speakers. I find this very useful when you want to have decent sound quality without waking everyone up.
Fire TV Stick Review: Should You Buy It?
That is everything I had to say on the Fire TV Stick Review.
I have given you the pros and cons of the product (In my opinion) but at the end of the day, you are the only one that knows if the pros outweigh the cons.
Here is a small summary before I wrapping things up…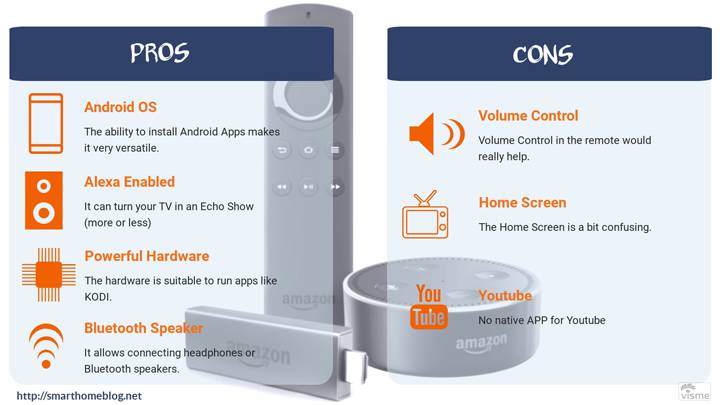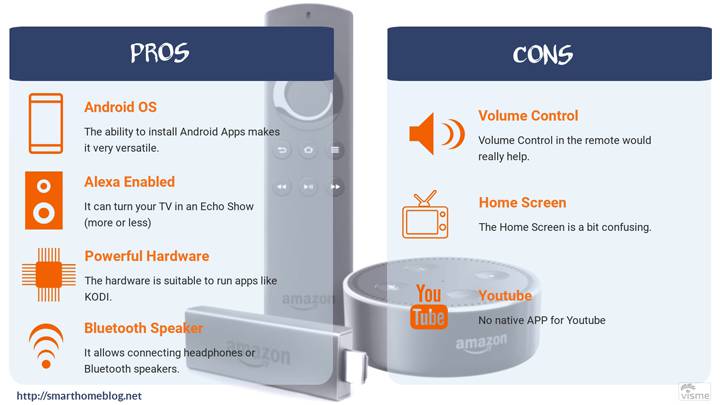 I think you can't go terribly wrong with this device, it packs a very decent hardware and works smoothly. Having said that, people that already have an Amazon eco-system will get a lot of more value from the product.
It ties everything together and gives you a very nice media experience.
All things considered, if you think that the Amazon Fire TV Stick can be a nice addition to your multimedia setup, you can check it out on Amazon.
If you are not interested at all on the Amazon Eco-System you may want to check the main competitor Roku.
I hope you like the review, if you have some feedback on the product, let me know in the comments.