If you are looking for a tiny smart plug on a reasonable budget the GoSund Mini Smart Plug might be a good option. They are smart plugs with a very small footprint and compatible with Alexa, Google Assistant, and IFTTT that you can get for a pretty competitive price.
I would like to start by thanking GoSund for sending me a couple of units for testing at no cost.
Let's get started with the review.
GoSund Smart Plug: Technical Specifications
The GoSund Smart Socket is rated for 10A and 120 V. This means that you can only safely connect devices consuming 1200W or less. This excludes big appliances like your microwaves or electric ovens but it should be more than enough for the majority of the gadgets at home.
It has surge protection when the voltage goes above 470V.
The GoSund Smart Plug uses wifi (only 2.4 Ghz) connectivity which means that you don't need additional radios in your Smart Hub to control it.
There are 4 ways to interface with the Plug out of the box: Amazon Alexa, Google Assistant, IFTTT and the Go Smart App which is available for Android and iOS.
The GoSund plugs use the Tuya Framework so if you have other devices on the same platform you will be able to create rules out of the box for them.
Unboxing and Installation
I normally do a section about unboxing but in this case, the box is so minimalistic that it doesn't deserve a specific section. When I had the smart plug in my hands, the first thing that caught my eye is that the device is extremely small, it is probably my favorite thing about it. I have tested a number of smart plugs and they tend to be pretty sizeable…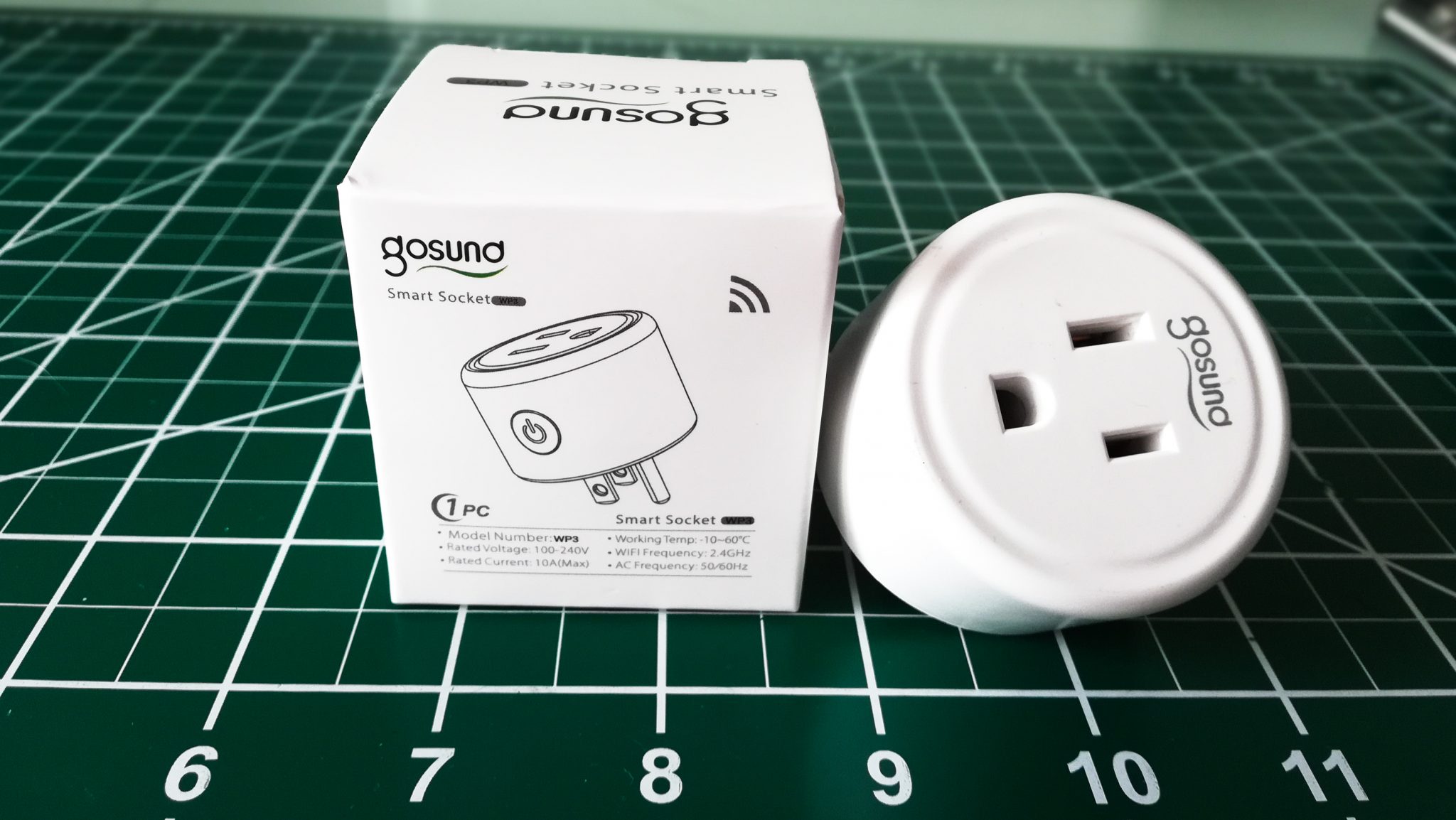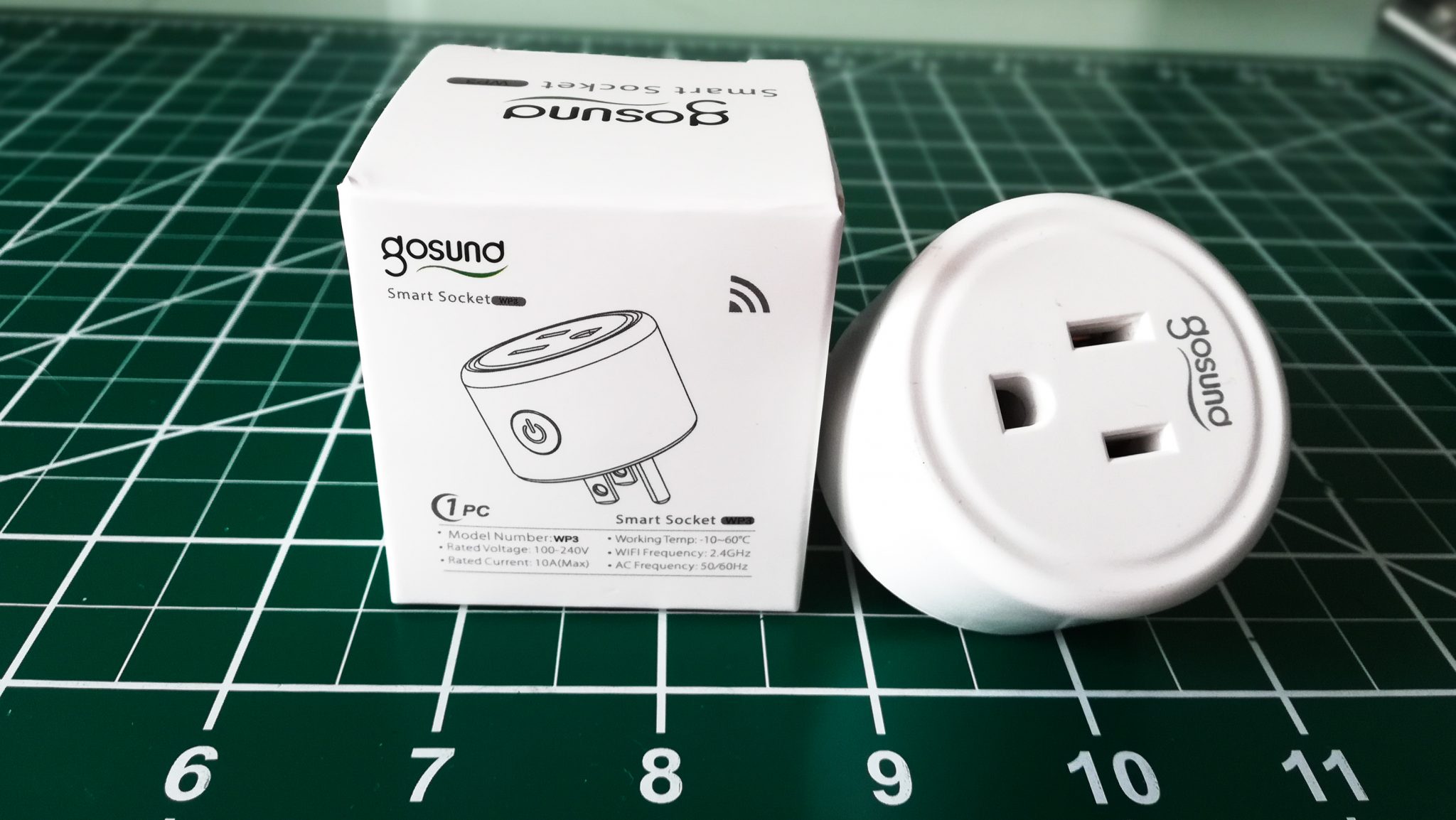 The GoSund can easily be plugged in small spaces which is a positive point over the competition.
The GoSund Smart Plug Setup was a walk in the park, it took me less than 5 minutes although I have to say that I already had the Smart Life app becuase I have other devices that can be controlled with it.
Having said that, the GoSund Smart Plug instructions are more than sufficient to install the device with minimal technical knowledge.
Controlling the GoSund Smart Plug
Let's get to the important things, how can you control the device remotely and what kind of automation is available.
I would like to break it down into two parts, out-of-the-box vs non-out-of-the-box interactions.
Out of the Box
The main tool to control the GoSund Smart Plug is the Go Smart App. It is very simple to use and there are some basic level rules that can be created directly in the app. It doesn't get to the level of more complex systems like openHAB or Home Assistant but it is actually surprisingly powerful considering how simple is the interface.
Most apps for Smart plugs out there only allow you to create rules based on timers, I was positively surprised to see that the app can apply as triggers things like the temperature outside or even the time of the day (sunrise/sunset).
I don't really use the automation on the app becuase all the logic of my home automation system lives in openHAB but I think is great for users that don't require a lot of complexity.
The fact that the device uses the Tuya Framework, makes it automatically compatible with Alexa, Google Assistant, and IFTTT. I have used it personally with Alexa and IFTTT and the integration is seamless. There is a small delay when you use it through IFTTT but it is still usable.
Thinking Outside the Box
The integration out of the box is enough for most people but for me, it is pretty much a requirement to be able to integrate every device with my Open Source Home Automation System.
I want to have a unified interface that can control all the devices even if they are from different brands.
Out of the box, the GoSund isn't compatible with Open Source Home Automation Systems, that is not the end of the story though. There are a few tricks that you can use to make it compatible with pretty much any home automation system out there.
This opens a world of possibilities in terms of fancy and sophisticated rules and I wrote an article on the very same topic.
Final Rundown: Pros and Cons
Cons
The button to turn ON and OFF the devices only lights up when the smart plug is ON. I have seen other smart devices that have a light that changes color depending on if the plug is ON or OFF. This comes in handy when you are trying to look for the outlet in the dark.
When you shake it, there is a strange sound as if some of the components weren't secured in place. It doesn't look very shock-proof. Having said that, I have been testing it for a while already and I have no complaints so far.
I wished it had an open interface to interact directly using MQTT or RESTful services. There are ways to achieve this but it is definitely not trivial.
Pros
It is very aesthetically pleasing. The finishing is very nice and the footprint extremely small. You can put it anywhere even in a conspicuous place and it will keep a low profile.
The rules engine in the app is impressive considering the simplicity of the interface.  There are a lot of things that you can do directly from the app. (triggers based on weather, temperature, time of the day..)
The installation is a walk in the park, it is a great device even as a gift for somebody that isn't particularly skilled in technology.
It uses the Tuya framework. While it is true that it isn't particularly open to tinkering, there are more than 30k devices available using the same framework so you will always have new gadgets to extend the network.
The last pro is the price. For hardly 9 dollars in Amazon, it is honestly hard to beat.
GoSund Smart Plug: Conclusions
If you are looking for Smart Plug that you can control from anywhere in the world and do some basic automation with Rules to turn it ON and OFF.  The GoSund Smart is a no brainer, the price is great and it works seamlessly. The device has 2238 reviews on Amazon with a 4 stars average which is hard to ignore…
Now…If you are planning to use the device with an Open Source Home Automation system like openHAB, keep in mind that this device can't do that, out of the box at least. There will be some tinkering required on your side to make that work.
I hope this helped, let me know if you have questions or concerns that you would like to share.